Boscombe Surf
As of December 13th, 2007, Europe 's first artificial surf reef in Boscombe got the green light for development. The surf reef, and super beach-huts, surf-themed retail outlet, a surfing academy and a glass-fronted food outlet offering fantastic panoramic views of the reef and beaches.
Needless to say, Boscombe Reef Hotel is already at the heart of the beach-life and surf-life surrounding Bournemouth beaches, and we will continue to serve everyone who wants our unique brand of surf-life.
Surf Shack
Our Surf Shack, at the end of the garden, is a secure place for your wetsuits and boards. The garden is a superb sun-trap and great for relaxing after a hard day (or night) enjoying yourself.
Boscombe Reef Hotel,
15 Westby Road, Boscombe,
Bournemouth, BH5 1HA
Tel: (01202) 394884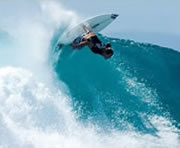 Click for live webcam.